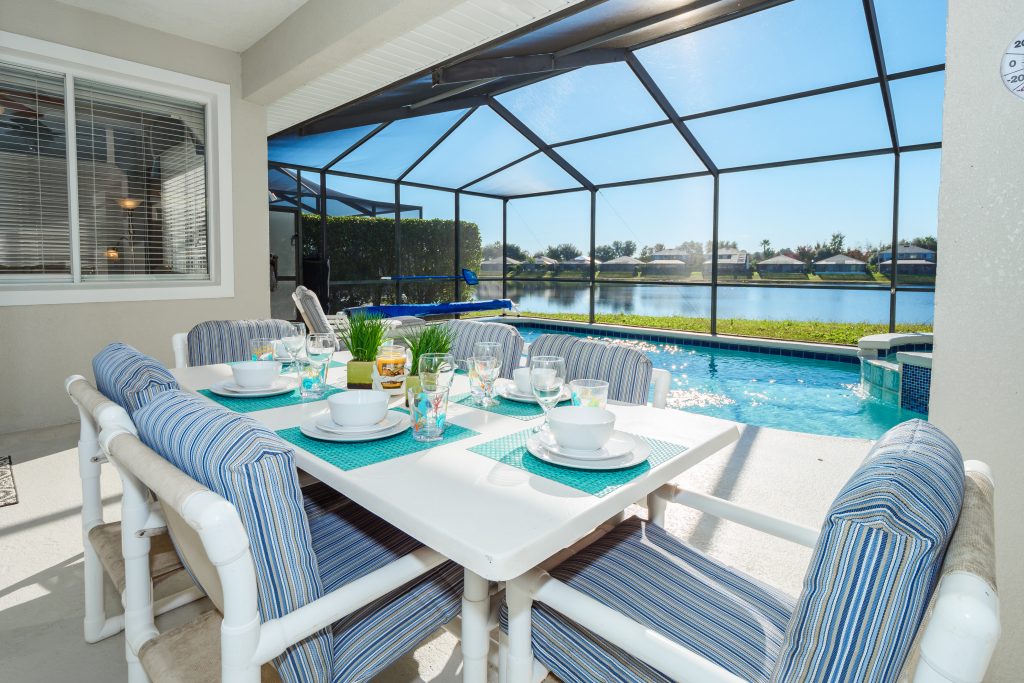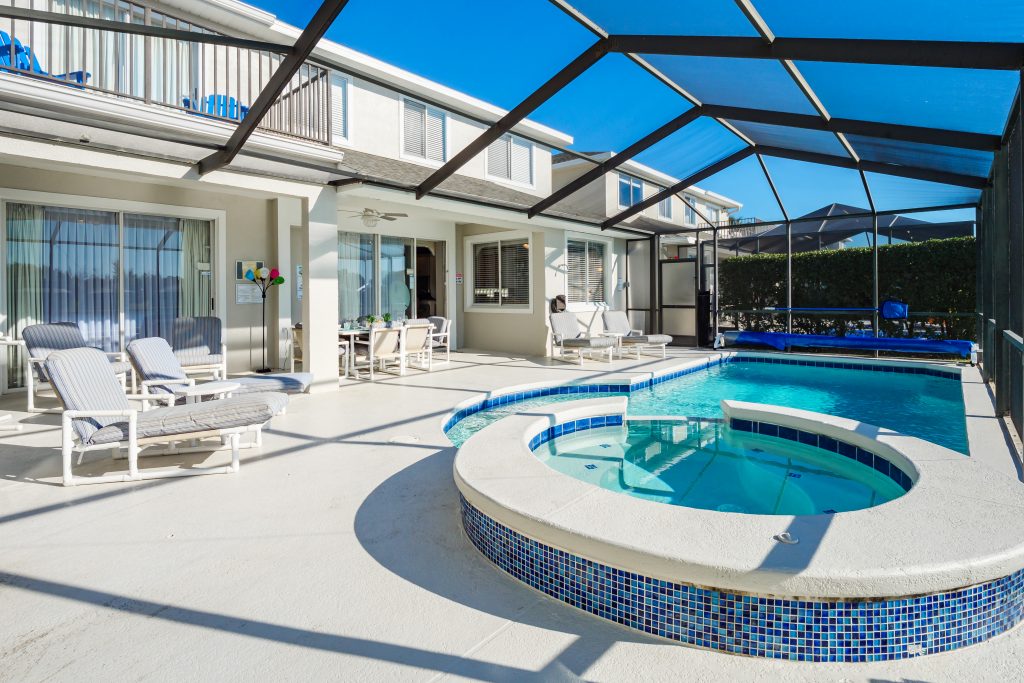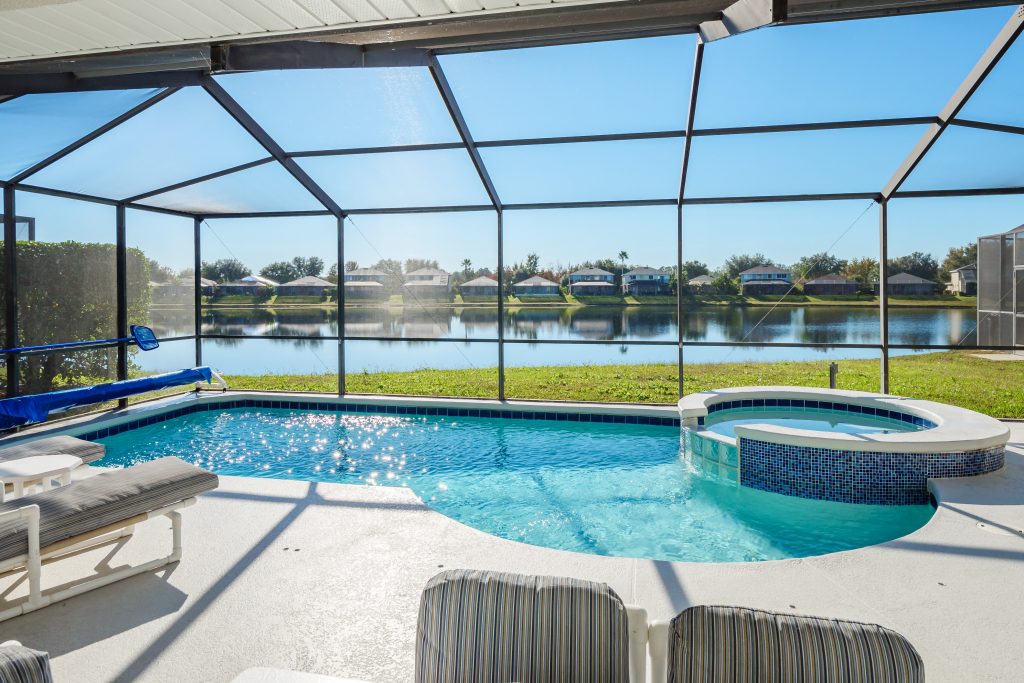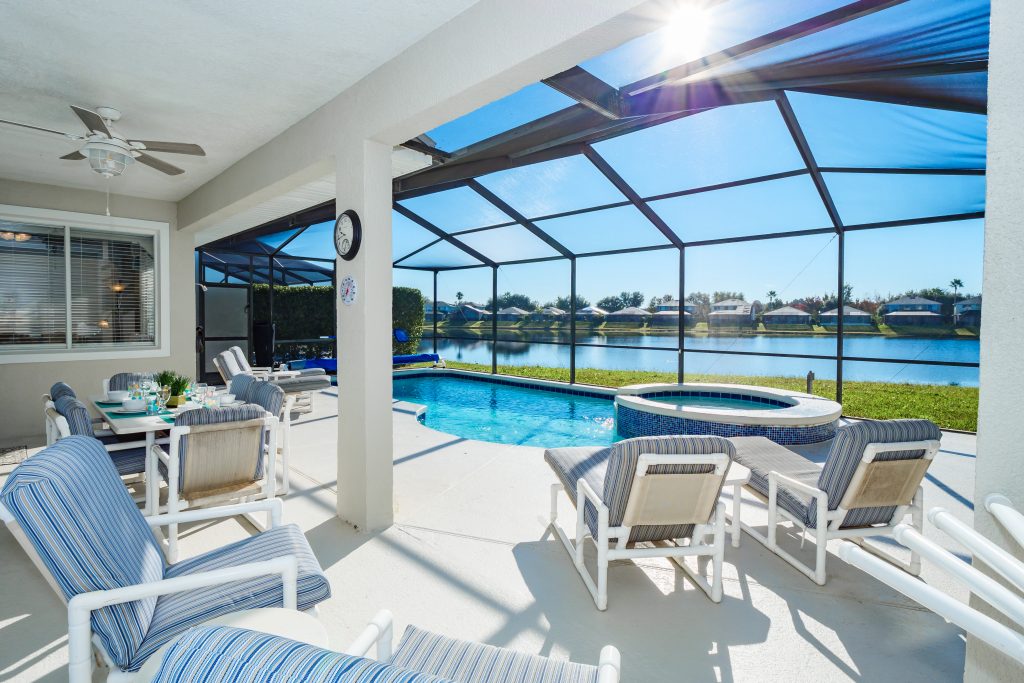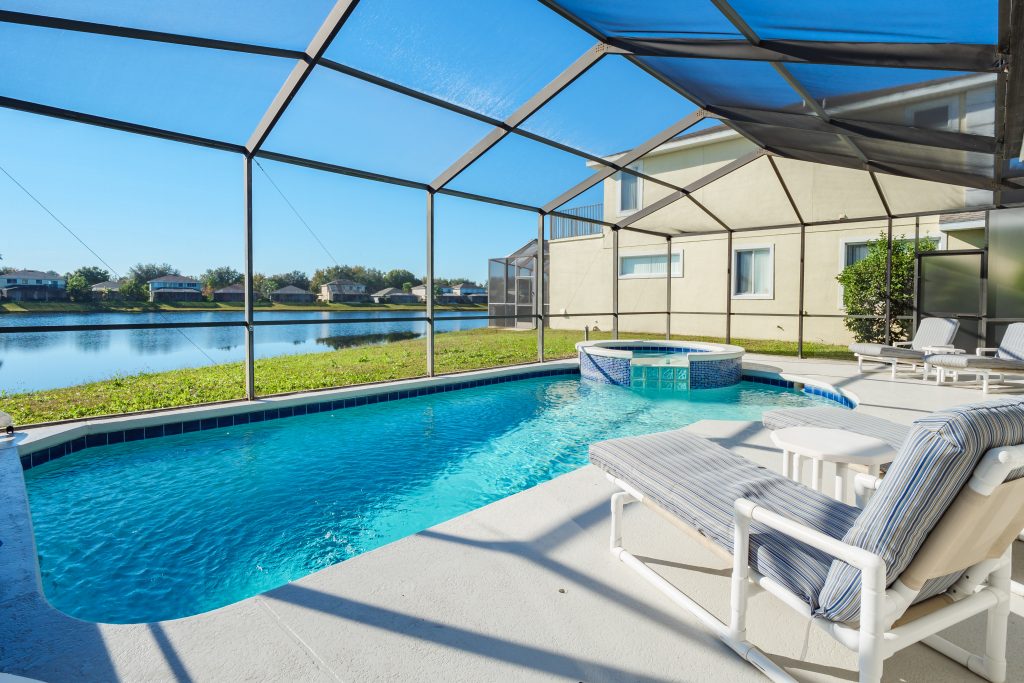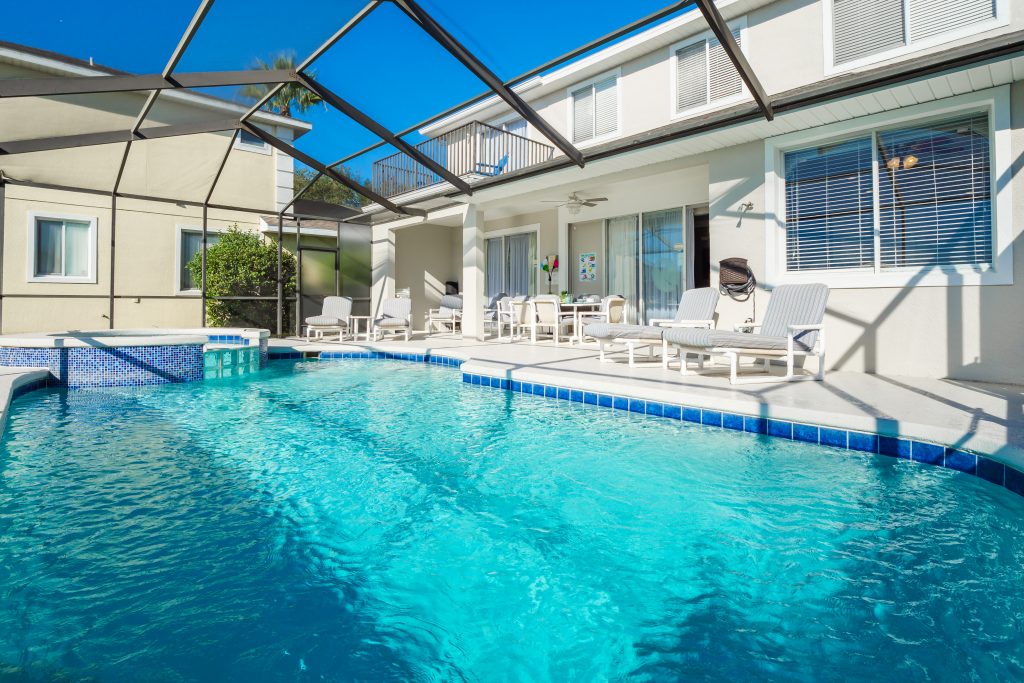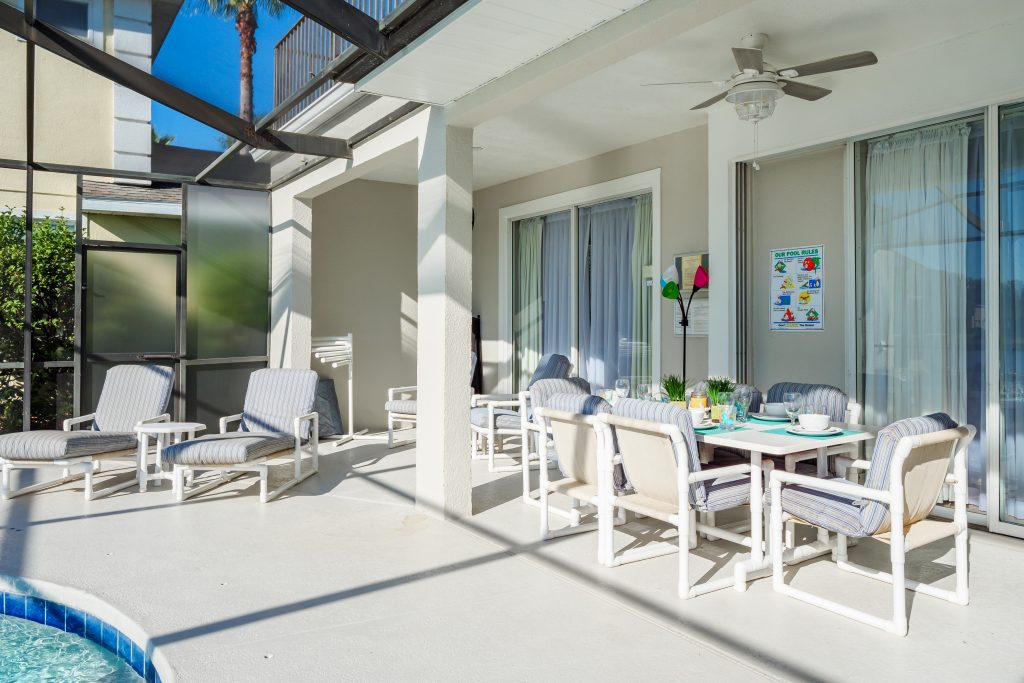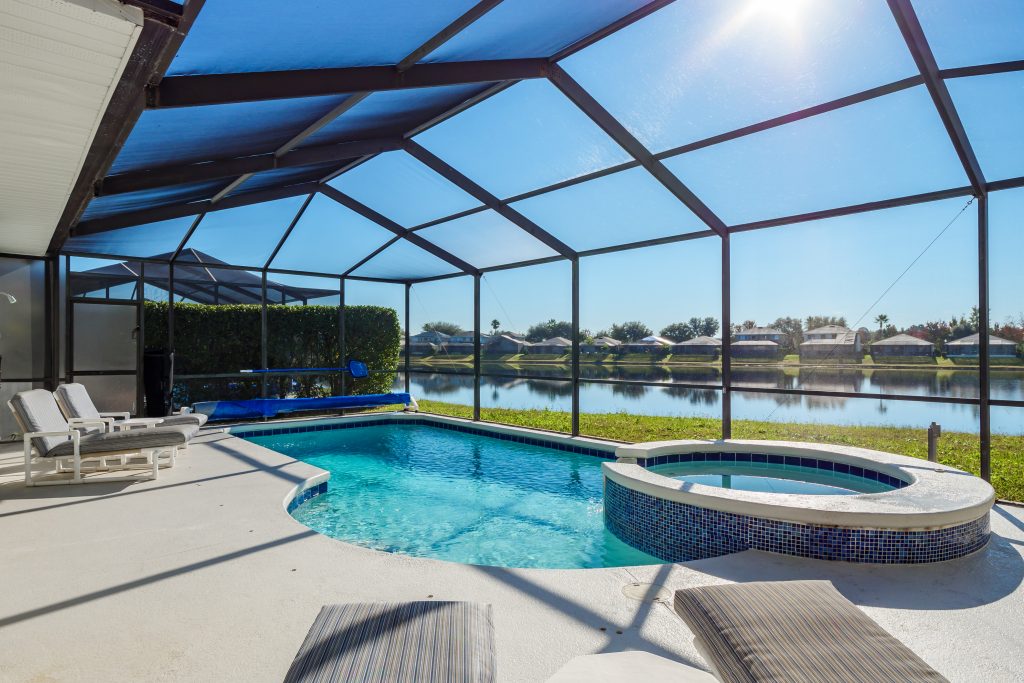 Rates from £1320 - £1620 Per Week
This Attractive, two story charming villa provides guests with a home from home in the sun. There's plenty of room to stretch out and relax away from the excitement and bustle of the parks.
Private South Facing Pool with 30ft x 15 seasonally heated pool and spa ~ not over looked by neighbours.
Beautiful Lake View from the spacious extended deck ~ no looking at neighbours or walls at breakfast!
All Day Sunshine on the patio, making the most of the Florida sun on the especially in the shorter winter months. (We do have shade on our patio for children and those who do not like too much sun).
A Higher Grade of fixtures and fitting with modern and stylish interiors.
A Modern, family friendly home that is stylishly decorated and very well appointed with excellent facilities. This villa has spacious living accommodation that ultimately provides you with an enjoyable and comfortable stay.
Guests will enjoy exceptional facilities at this villa…
Young Family, UK
Very impressed amazing villa
We are just back from a fantastic 2 week holiday in this beautiful villa, it was like home from home with everything you needed. It was my daughters 31st birthday the day before we arrived and Sharon had arranged for a lovely birthday cake and balloons on arrival. Villa spotlessly clean and in a good location for the theme parks and plenty of restaurants nearby.
Sanders/Scott Families , Ohio/USA
Best Vacation Ever
Our family has booked homes at Sunset Lakes for over 15 years and our vacation July 2021 was the best. All inquiries were promptly addressed and the host accommodation was outstanding. Looking forward to booking another vacation stay with the host and enjoying the wonderful home that is perfect!
Wilson Family, UK
Winter Break
We had an excellent week at this superb property. The home has every amenity to ensure that it is home from home. The views over the lake in the morning and early evening are not to be missed We wanted for nothing during our stay and would highly recommend this property to those wishing to be close to the attractions yet private when that is required
Unrivalled, fantastic villa
Huddleson Family, UK
What a fantastic villa, absolutely immaculate, service from management team quick and so helpful. Been coming to Florida since 2006 and this was the best experience, location is perfect for quiet days or the parks, cannot do better!
Bedroom 1: Super-king Bed ~ Master Bedroom with 50' flat screen TV, nightstands, chest and dresser with mirror. A huge full en –suite bathroom with garden tub
Bedroom 2: Queen Bed ~ Large bedroom with flat screen 32' flat screen TV, nightstands and a dresser with mirror and wardrobe.
Bedroom 3: Twin Beds x 2 ~ large bedroom with flat screen 32' TV, dresser with mirror, chest & walk in wardrobe.
Bedroom 4: Twin Beds x 2 ~ large bedroom with flat screen 32' TV, nightstands, dresser and mirror and walk in wardrobe.
Bathrooms: As well as an huge en-suite bathroom in the Master Bedroom, there are an additional 2 bathrooms on the 2nd Floor and an additional bathroom on the ground ground floor.
Ground Floor Sleeping Accommodation:
Bedroom 5: Super king Bed ~ large bedroom with flat screen 32' TV, nightstands, dresser with mirror, chest and wardrobe. (Patio doors from this bedroom lead out onto the pool deck)
Bedroom 6: Twin Beds x 2 ~ large bedroom with 32' flat screen TV, nightstands, dresser with mirror & walk in wardrobe.
We have two hotel quality roll out beds that can be used in any bedroom for additional guests.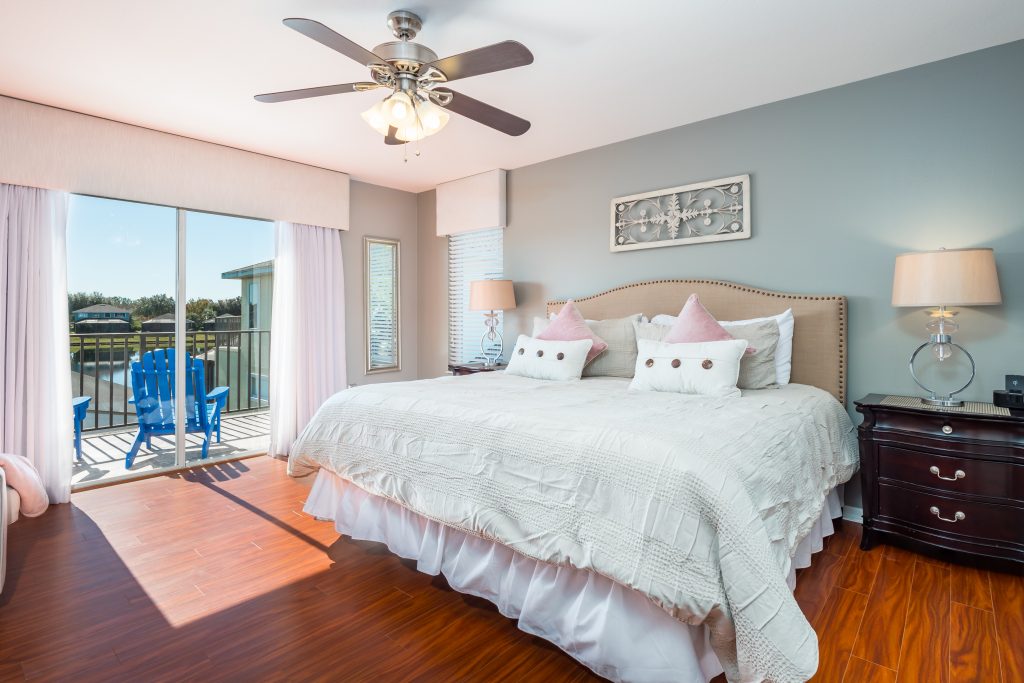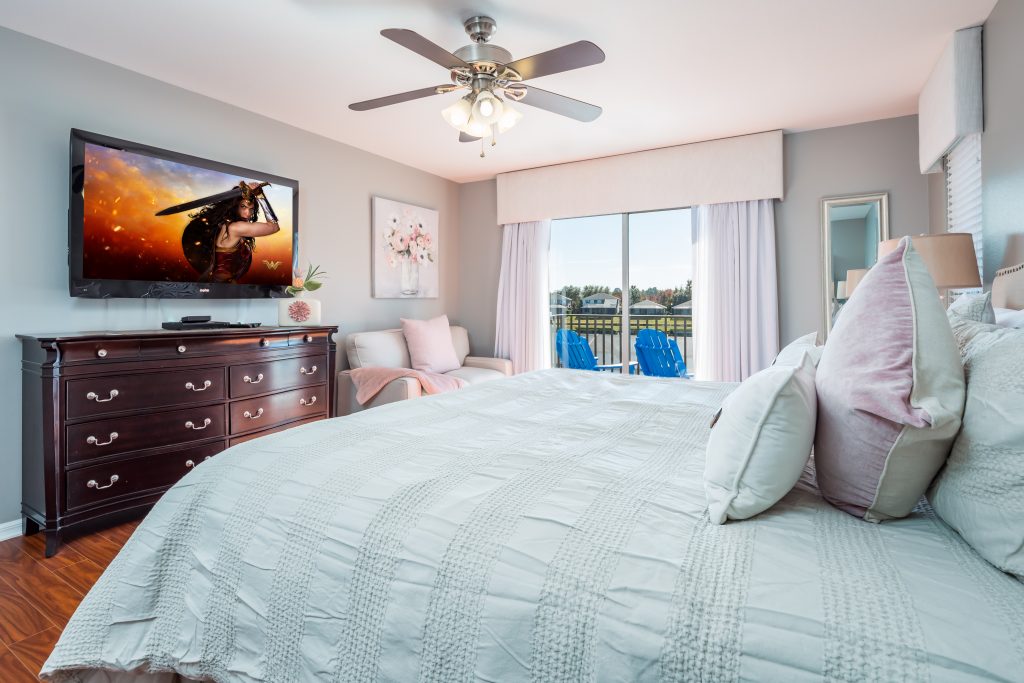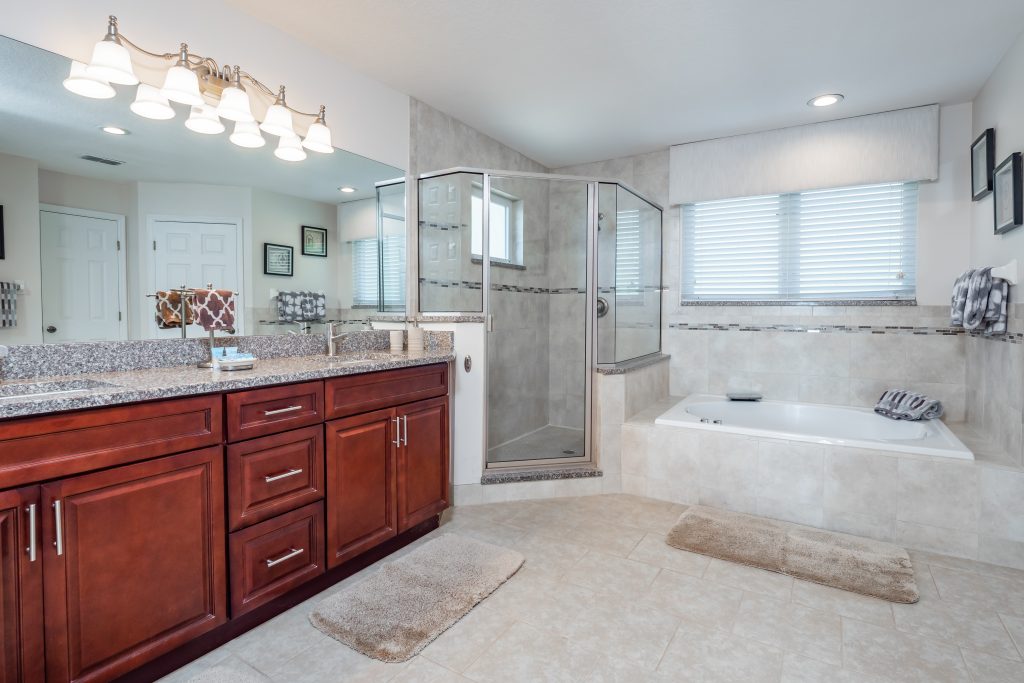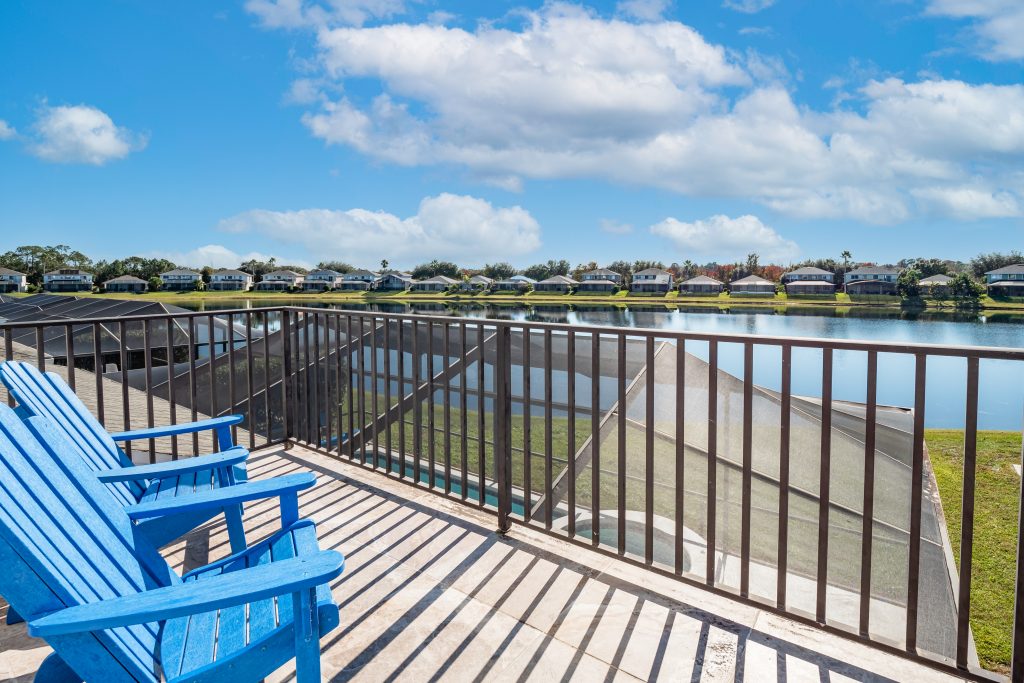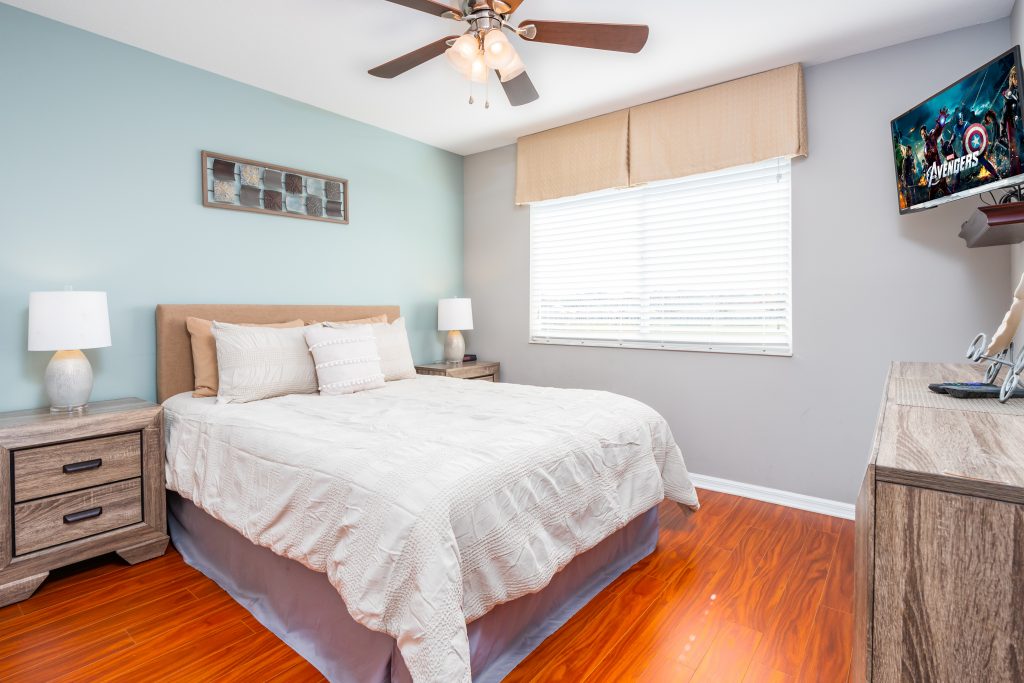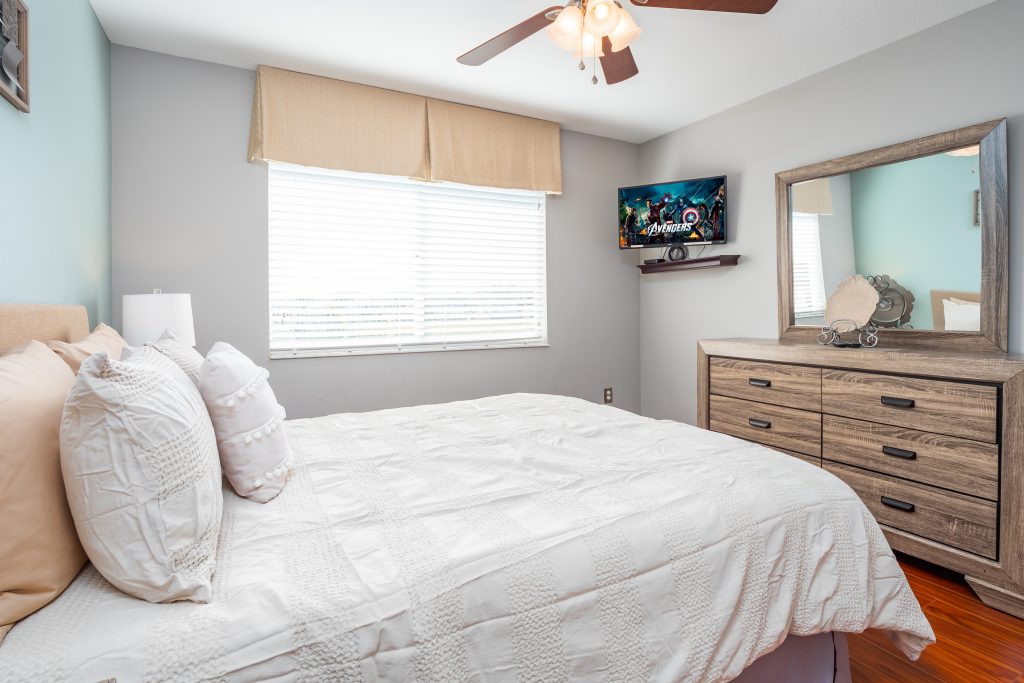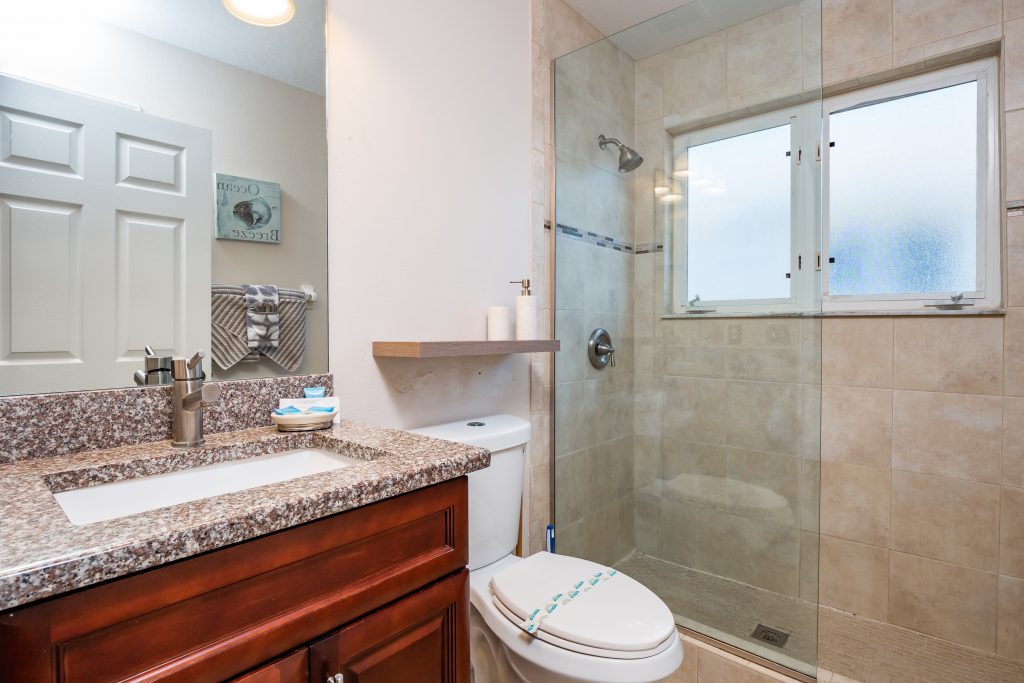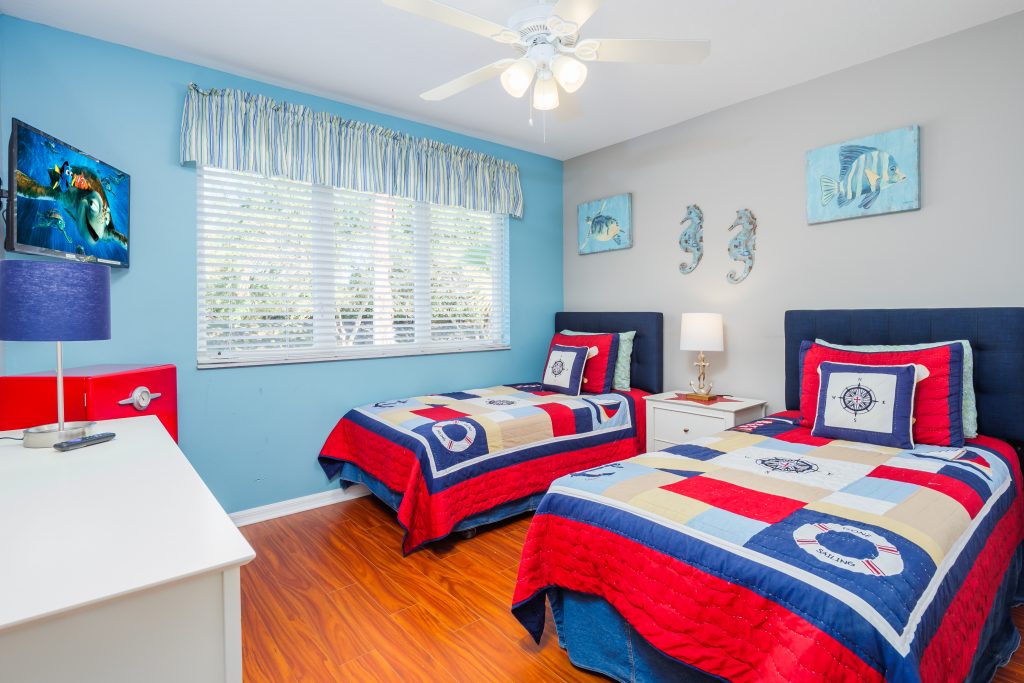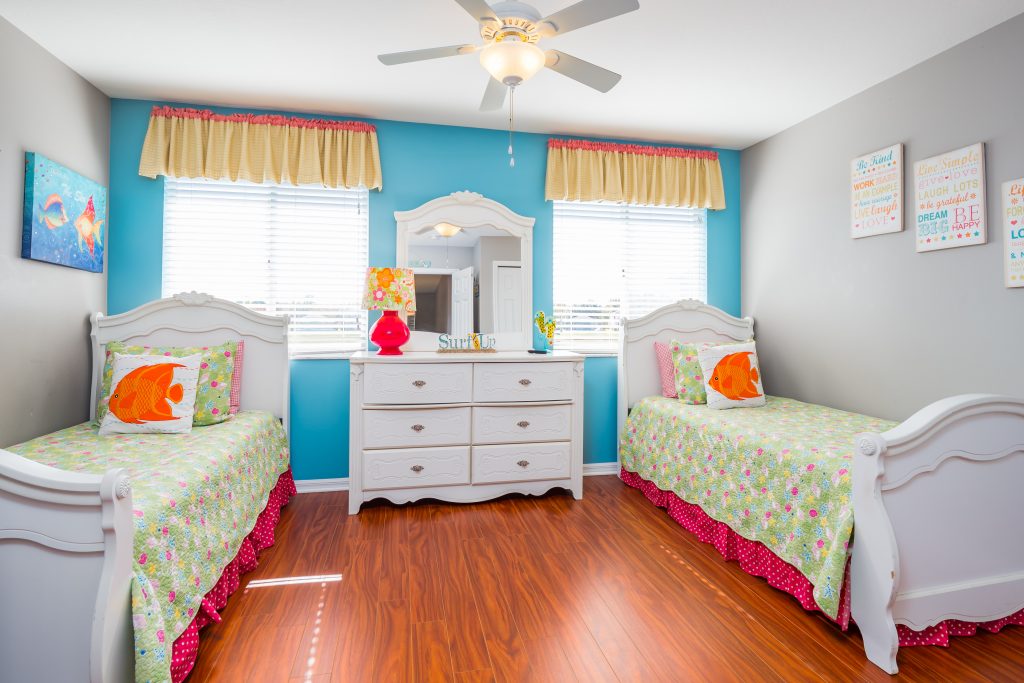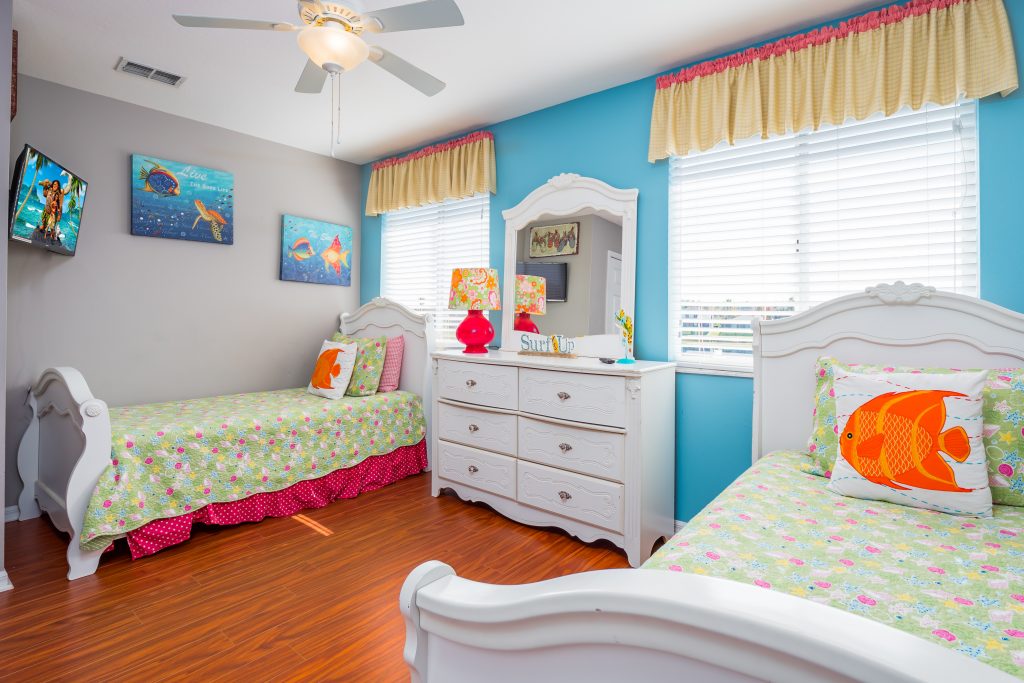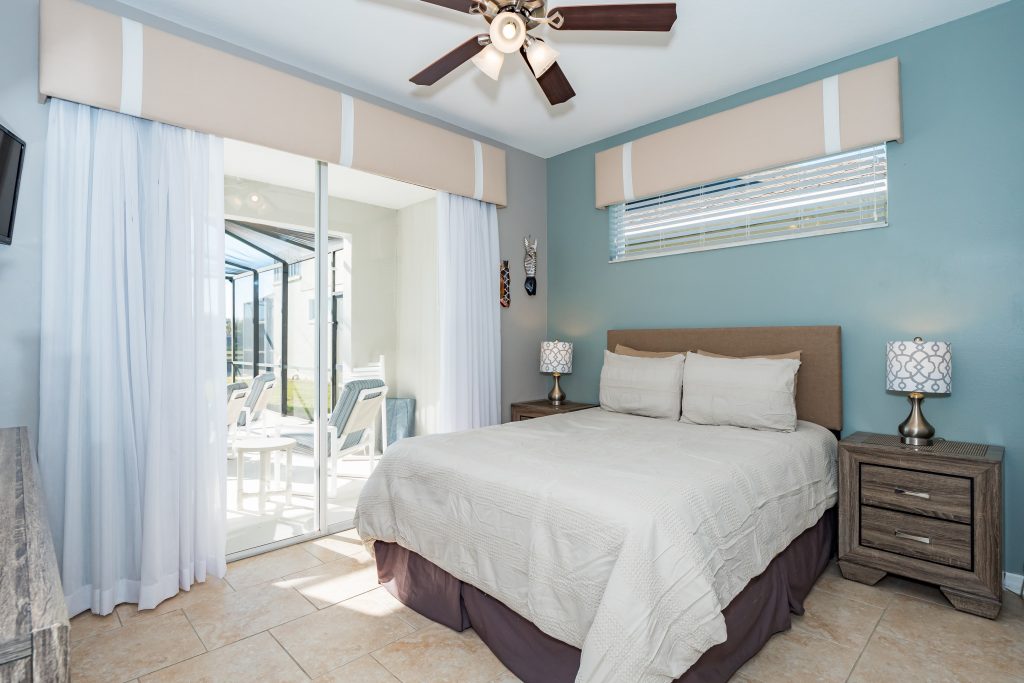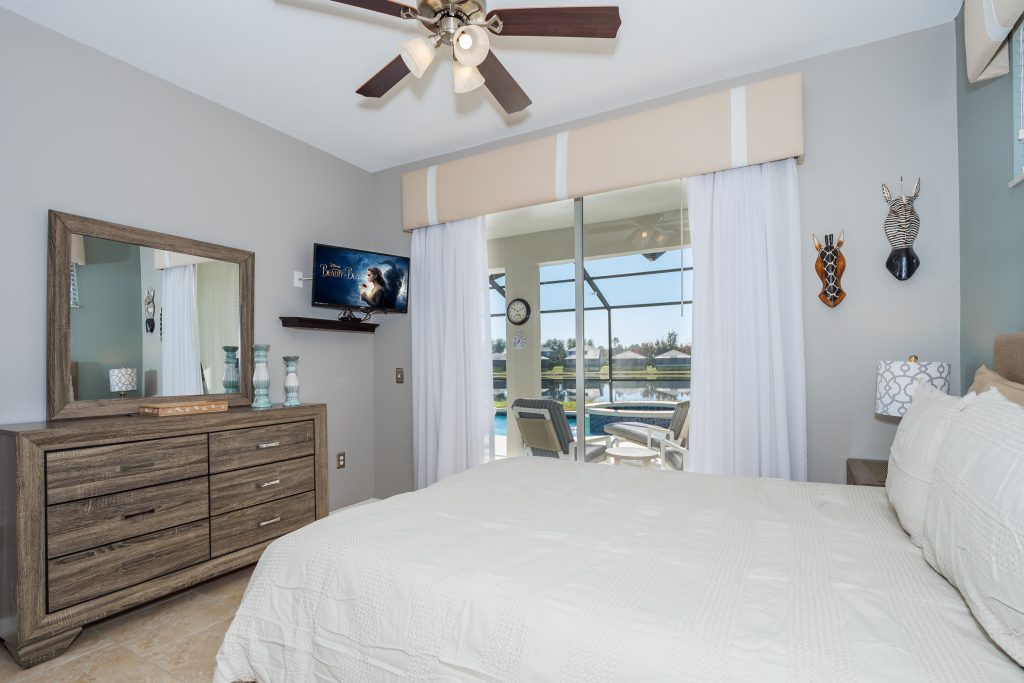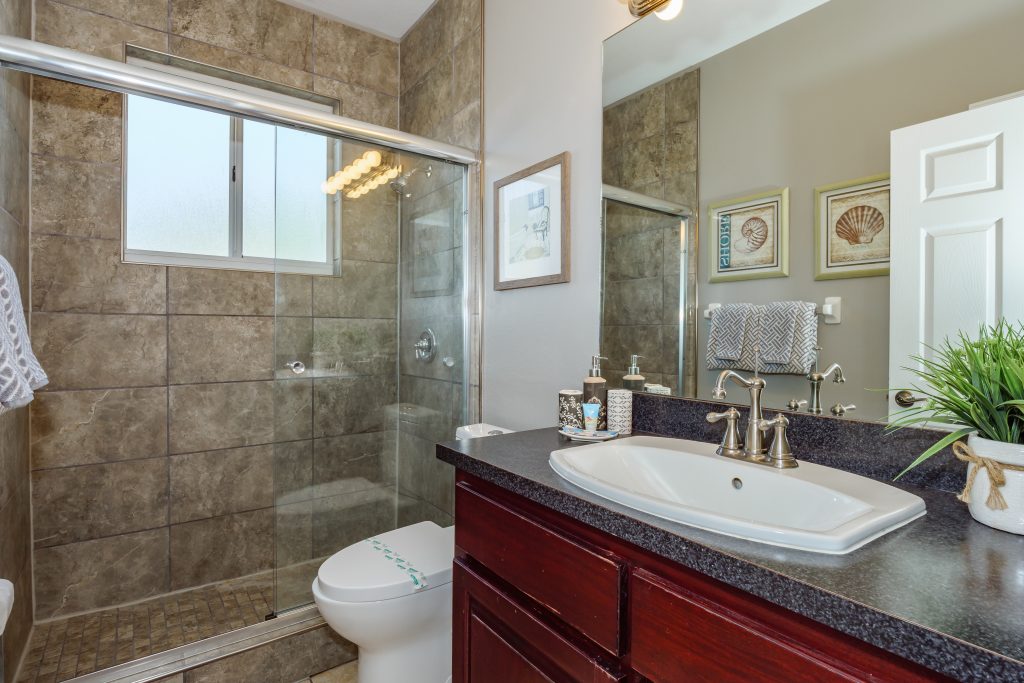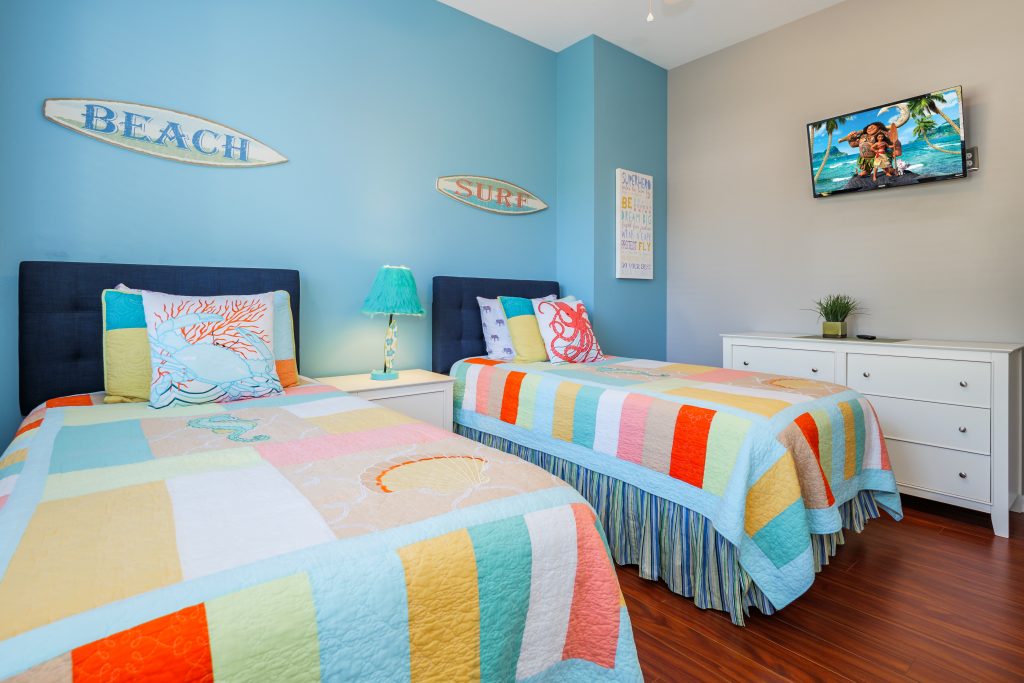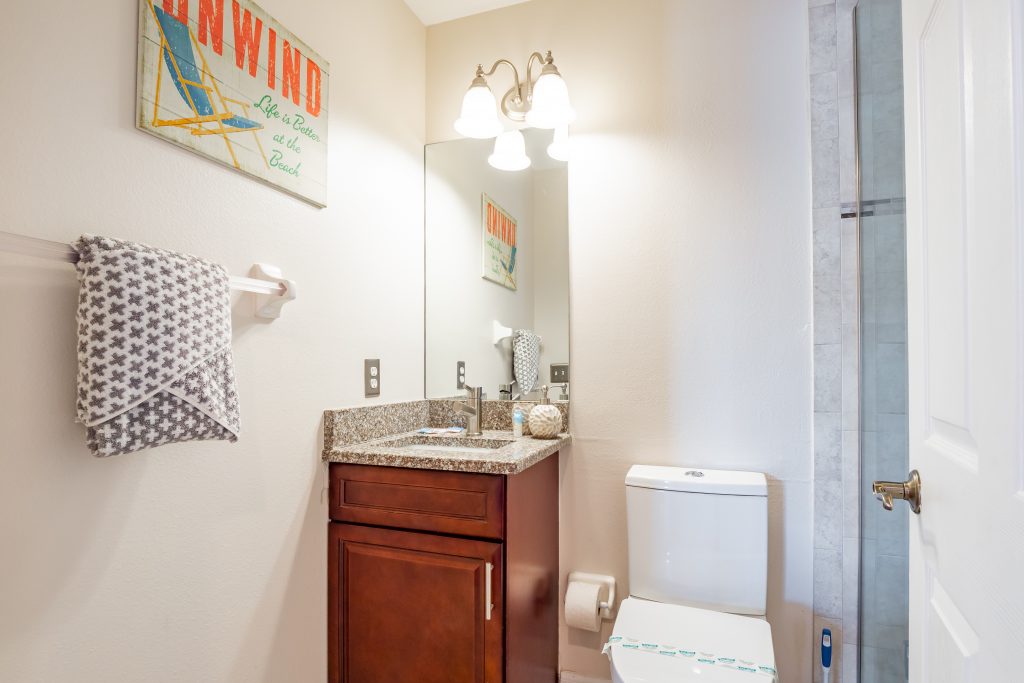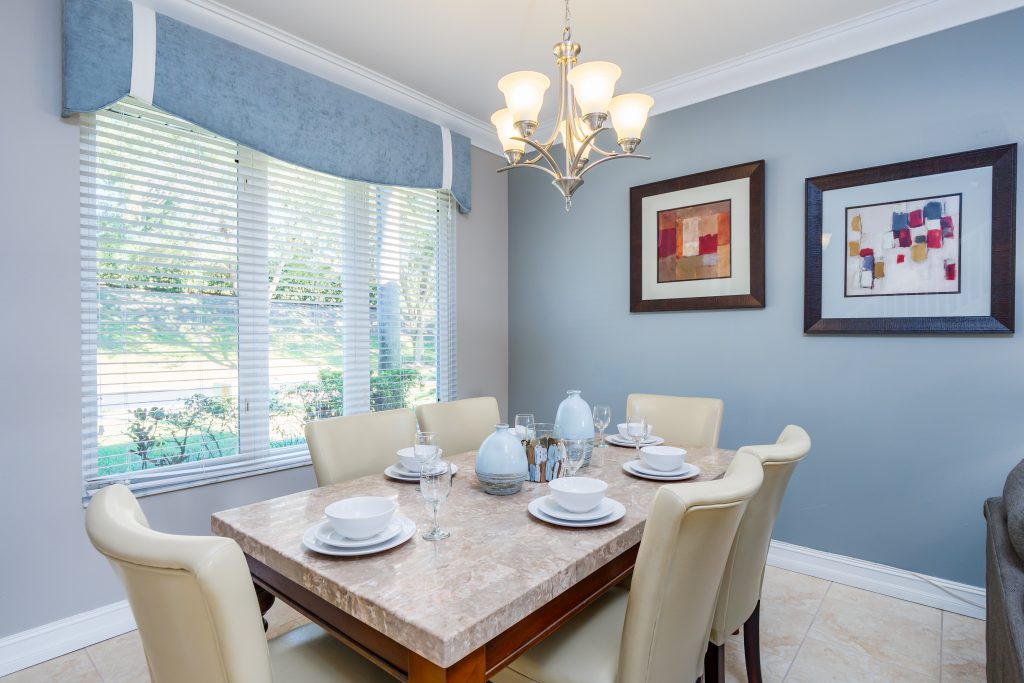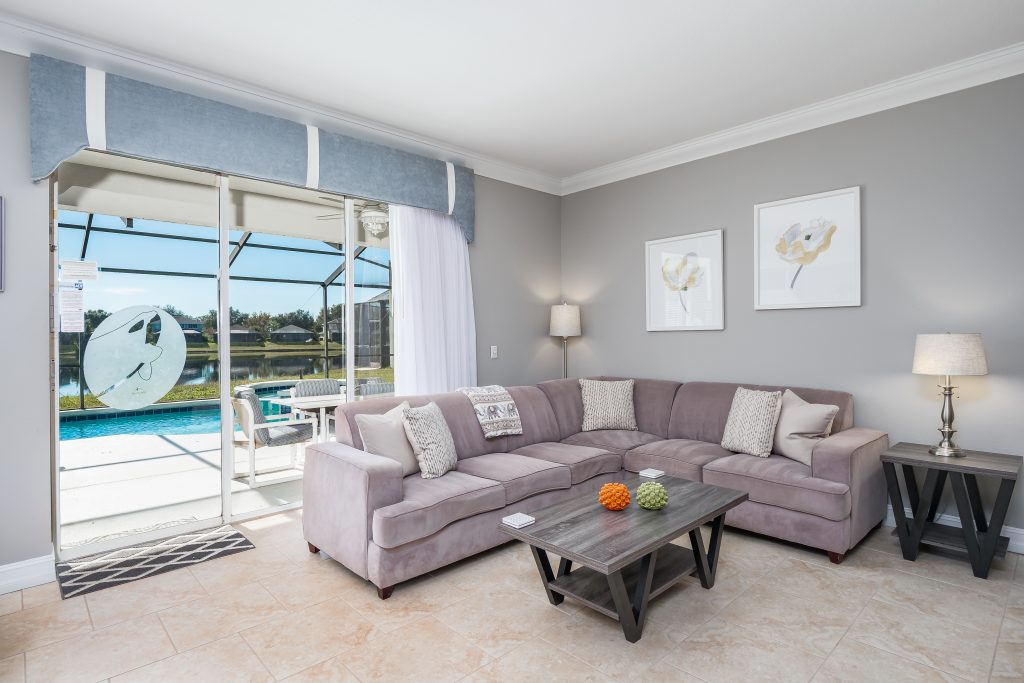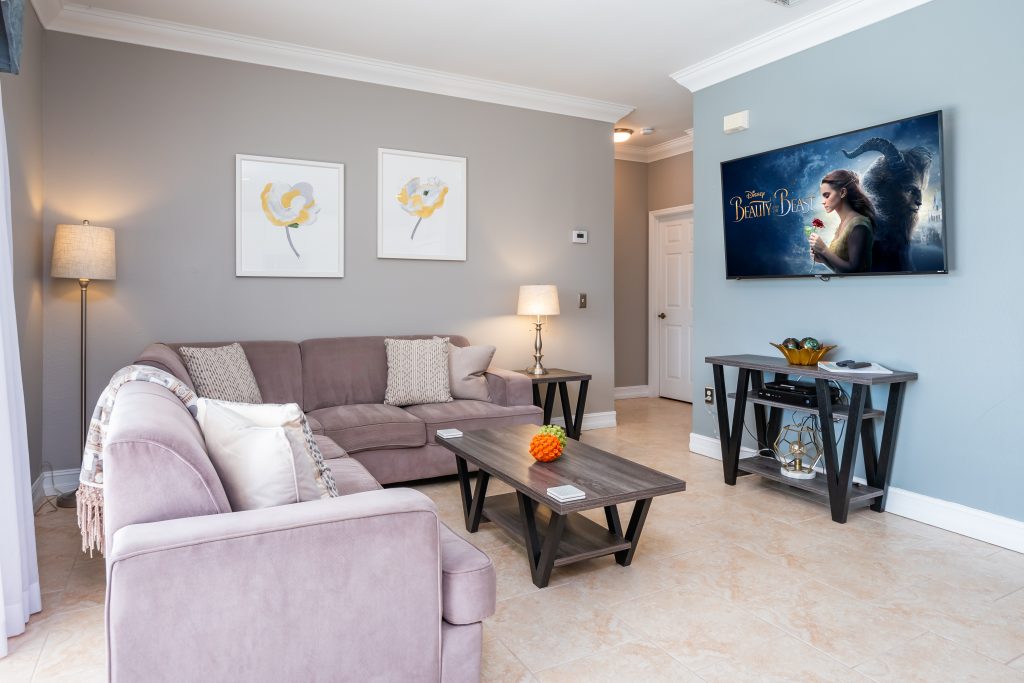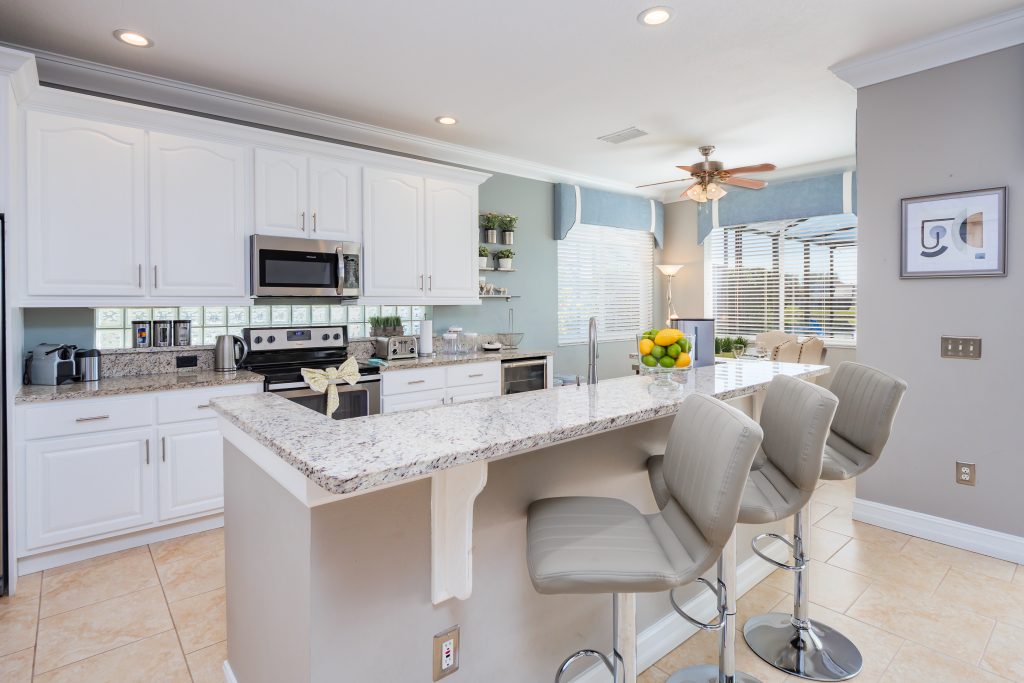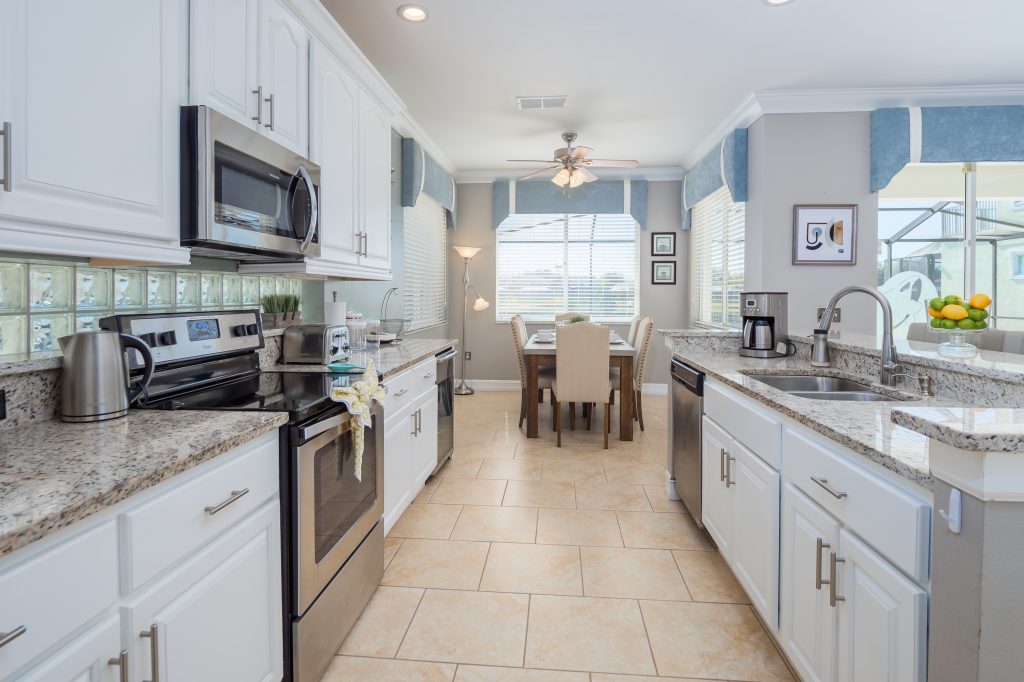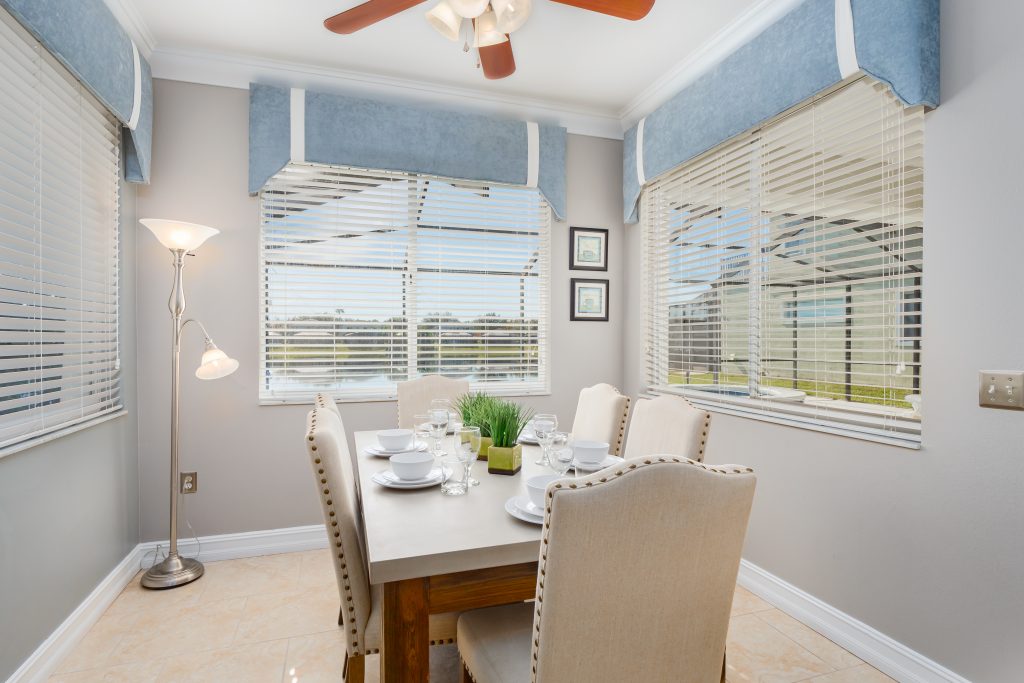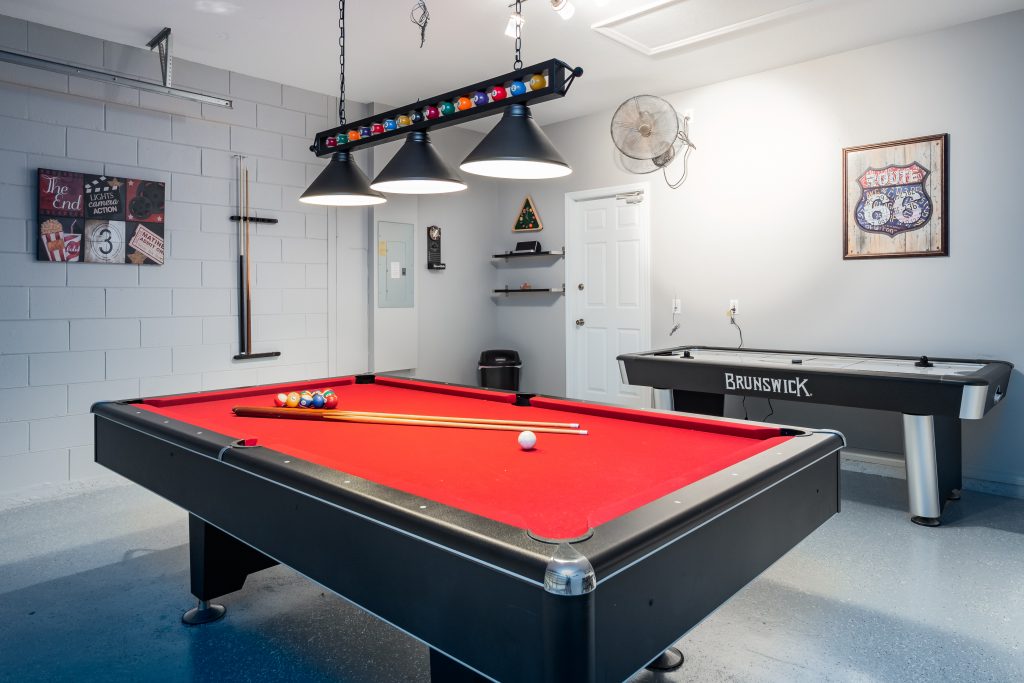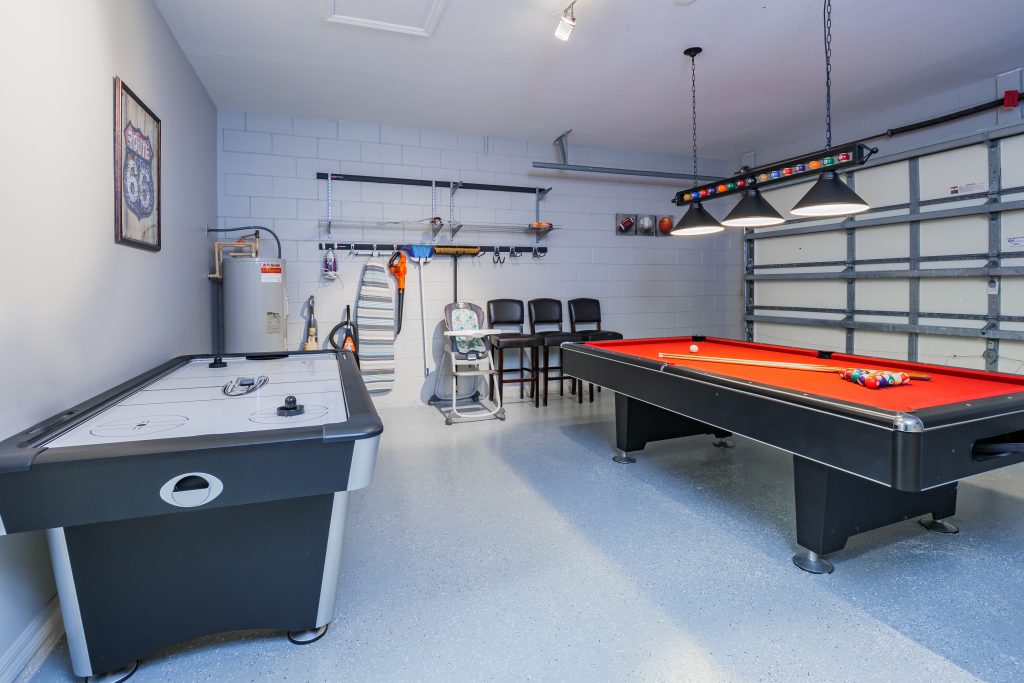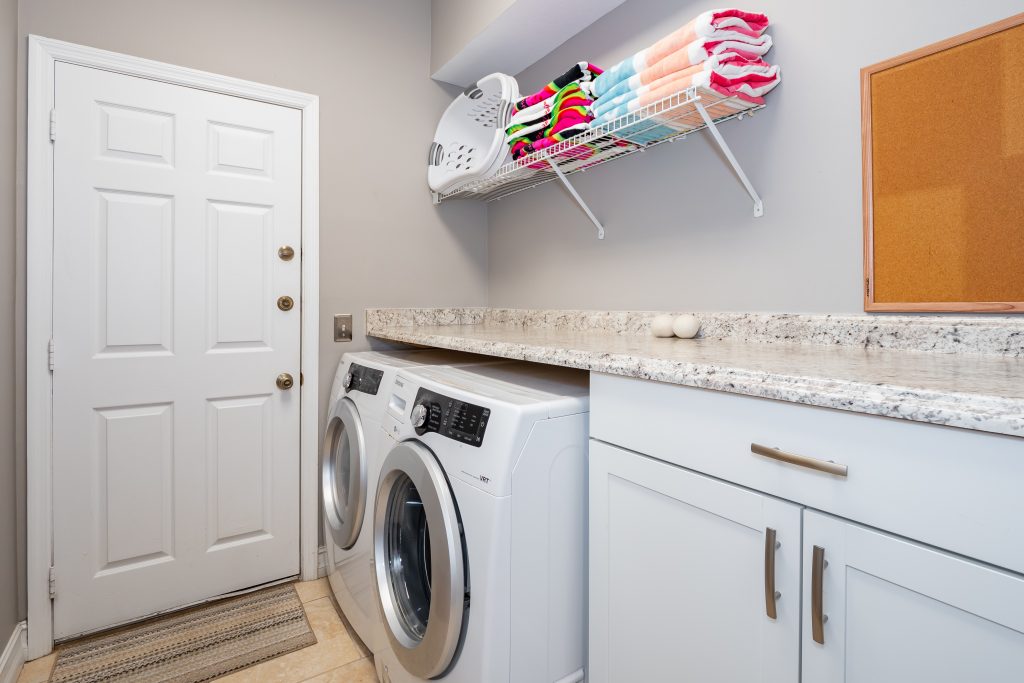 Living, Kitchen, Family Rooms & Games Room
Fully fitted luxury kitchen with custom cabinetry.
All modern major appliances & many, many extras – just look at the photos…
Self-catering accommodation for guests who don't want to eat out all the time
Custom window treatments
Beautiful dining table seating 6 guests
Bar seating for snacking and get-togethers
Fully equipped utility room with front loading washer/dryer and ironing facilities
2 stylishly furnished lounges offering plenty of comfortable seating and extra space to spread out, 50' flat screen TV.
Custom window treatments enhancing peaceful atmosphere.

As well as a kitchen dining table seating 6 guests, we also have an additional elegant dining area seating 6 guests.

Games room with full size, slate top pool table ~ fun for the kids!

Free high-speed wireless internet access.

Baby facilities include: Cot, high-chair & stair gate.